EARLY EDUCATION (0 - 3 years)
What is early education?
- A specific care of the child and his family following the early diagnosis of deafness.
- An educational measure introduced from birth up to 3 years in a specialized center where the child is supported at a rate of one or two times a week.
- A multidisciplinary action: teacher, speech therapist, psychologist, audiologist.




The objectives of this education:
- Give particular attention to the overall development of the child, particularly in the development of intellectual and emotional capacities.
- Inform and educate parents in the selection and development of a suitable educational project.
- Facilitate the awakening and maturation essential to the acquisition of speech and language oral hearing function. Develop communication in all its aspects.
- Ensure a psychological and social assistance.

SPECIALIZED EDUCATION
FROM PRESCHOOL TO SECONDARY
- Distribution of students in groups (6-8) according to:
- Age
- From the academic
- The degree of hearing loss





- Application and adaptation of the regular school program for hearing impaired
- Customized programs. Follow rhythm and needs of each student.
- Creation of specialized classes for children with cochlear implants
- Workshop multidisciplinary coordination
- Extracurricular activities.
- Opportunities:
- academic or technical Patent
- academic or technical Bachelor
- School Certificate or official (technical)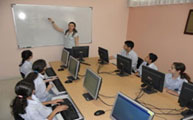 WORKSHOPS FOR COORDINATION
Coordination between various disciplines